Download or Watch Now

!
"Ni hao, my name is Jade. I am your teacher."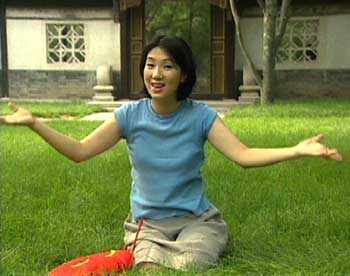 "Jade is a naturally gifted teacher."
- David Sundahl, Ph.D., Far Eastern Studies, Harvard University

My full name is Jade Qian (pronounced "chen"), and I was born in Shanghai.
At the age of 12 I moved to Beijing, and later came to the United States to pursue my education, graduating with a BA from Boston University. My husband, two children, and I now live in the Boston area .
I first started teaching Mandarin Chinese with my two young daughters. Then some of their friends and other children started to become interested in learning as well.
In just three short years, my students numbered over one hundred and the number is still growing. Through that process, I've developed a special bilingual and activity based method of language instruction, which is the same technique that you'll see in the Follow Jade! video series.
I hope you enjoy the unique approach that I take with teaching Chinese to kids - making it fun, approachable, and using words and concepts that children can use everyday.
Best wishes to you and your kids!

-Jade Qian