Key Topics
Body parts
Fruits
Farm animals
Visiting a market
Clapping and Stomping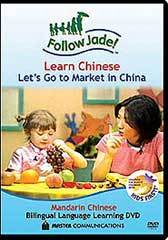 Follow Jade! Learn Chinese: Let's Go To Market in China teaches basic Mandarin Chinese. Children will visit a market and farm in China, and learn about
- fruits,
- animals,
- body parts,
- action verbs, and more.
Children learn Chinese while having fun, through Jade's engaging and interactive teaching style.
Key vocabulary words are shown on screen with Romanized Pinyin spellings, and each section completes with a special review to enhance learning.
Let's Go to Market in China (DVD)

$19.99

Buy Now

Let's Go to Market in China (Audio CD)




$ 9.99

Online ordering provided by AsiaforKids.com!